I've used up another 15 seconds of fame, this time in the Monday, September 29, Vitebski Kurier: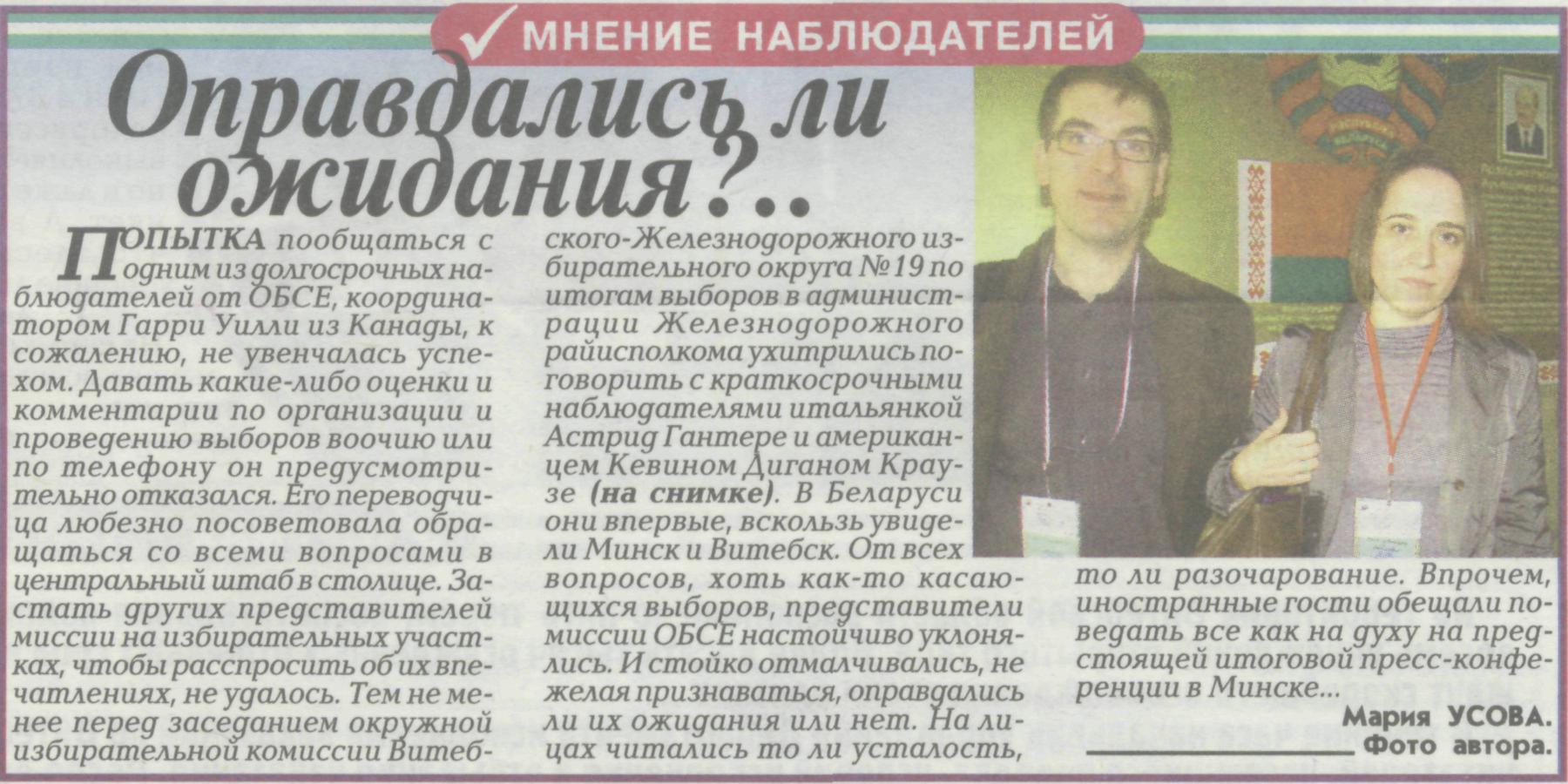 Translation:
Did expectations come true?..

Our attempt to have a conversation with one of the long-time observers of OSCE, coordinator Gary Ouellet from Canada were not successful. He providently refused by phone or other means to make any evaluations or comments on organization or process of the elections. His interpreter politely advised us to address all the questions to the headquarters of OSCE in Minsk. Nor did we manage to meet any other observers at polling stations to ask for their impressions. Nevertheless we were lucky to have a brief conversation with short-time observers Astrid Ganterer and Kevin Deegan-Krause (see photo) before the meeting of the District Election Commission of Vitebsk's DEC #19 in the regional state administration building. It is their first time in Belarus, and they saw some parts of Vitebsk and Minsk. The representatives of OSCE mission persistently avoided all the questions connected to the elections. They kept silence, not revealing if their expectations came true or not. One could see either exhaustion or disappointment in their faces. Still, our foreign guests promised to answer all questions at the press-conference in Minsk…" (Thanks to our translator and several friends for clarifying the Russian).
Actually I am not allowed to clarify what emotion was on my face that day, but if it was reflective of the faces of those who reported for the OSCE in Minsk that day,  then "disappointment" would seem to be an appropriate choice (see http://www.osce.org/minsk/).
P.S. Search the picture above closely for the Hidden Lukashenka. If you enjoy that, you might want to try this Hidden Picture.
P.P.S. More election observation pictures (taken by others) online at: