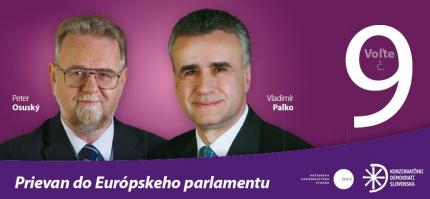 A reader (for all I know, since I haven't enabled the statistics package on this blog, the reader) notes the OKS-KDS ties to Libertas and asks about the chances to break the 5% threshold in the upcoming European elections. My rather limited response:
This will be KDS's first meaningful electoral test, since in the presidential elections KDS's nearest competitor, KDH did not have a candidate.  It is good news that KDS is that it is running its best-known face, Vladimir Palko, who gets a lot of media coverage as a Slovak MP, but that's the best news I can think of.  As far as I know, the party does not have any meaningful organization on the ground and not even, (so far as I can find) a website (and this party's potential voters aren't really web-readers, the absence is a sign, I suspect, of other organizational deficiencies).  Perhaps more notably, KDS has failed to get any opinion poll traction in the last year.  When it's not explicitly included on the list of parties in polls, nobody mentions it spontaneously ("other" was for several months in several polls almost completely empty) and even when it is included, it hovers below 1%.  Perhaps worse, in the big picture, when Palko and Miklosko announced the creation of KDS the preferences for the party from which they split, KDH, did not drop at all.
OKS, for its part, may actually be slightly more organized (though that's not saying much).  It has a few local government councilors and a website but I used to pass it's empty, small office in Bratislava last year and rarely saw any activity and the website shows little beyond Bratislava.  OKS polled 1% in the 2004 Euroelections, and the party haven't done anything to help itself since.
In addition to this, the field of small parties on the right is now remarably crowded and includes not only OKS-KDS but also 1) Slobodne Forum, 2) Sloboda a Solidarita, 3) Liga, and even 4) the  Demokraticka Strana (judging by its website an even paler shadow of its former pale self) and 5) Simko's Misia 21.
The degree of alternatives raises a final, minor, question about the compatibility of OKS and KDS.  OKS may bring a little bit of organization; KDS brings a little bit of visibility (with its 4 MPs).  But at the same time, in a crowded market of small "right" parties, the combination might send some voters elsewhere.  Slovakia's "right" is a mix of cultural conservatives and economic liberals (in the European sense) who do not always get along.  Among the mainstream parties, SDKU tends to attract the economic liberals and cultural liberals; KDH tends to attract the cultural conservatives while supporting some aspects of economic liberalism.  KDS has pushed hard on the cultural conservativism question, with strong Christian overtones whereas OKS, while not ignoring moral questions, seems shows more of an orientation toward an Anglophile conservatism rather than a religious one.  The party has few enough voters that the question may not be relevant, but I wonder whether Palko will push any OKS voters into the more economically liberal arms of Liga or SaS.
All in all, I don't disagree fundamentally with Peter Horvath's assessment that OKS-KDS has a better chance than many of the other smaller parties,  (http://www.panorama.sk/go/news/news.asp?lang=en&sv=2&id=19899) but that that is not saying much at all.  In a regular parliamentary election, I'd predict maybe 1.5%.  In a very low turnout Euroelection funny things can happen.  KDH significantly outperformed polling in the 2004 Euroelections, but the limited evidence I have leads me to think that this was because the party had a relatively strong organization at local levels.  KDS did not acquire those organizational assets, but KDS's small electorate likely includes some of those high-turnout voters and maybe a few local organizers loyal to Palko, so the party may do a bit better than it would in a normal parliamentary election.