Those who would criticize American art as sterile and commercialized have obviously not familiarized themselves with the art of Congressional district boundary drawing which, like certain kinds of locust, flourishes once every decade (sometimes more often in Texas), feeding on census data and political desire.  And this year local Michigan artists have done their state proud with some remarkable work.  The beauty of these creations is often lost in a jumble of shapes and colors when they appear together on the same page: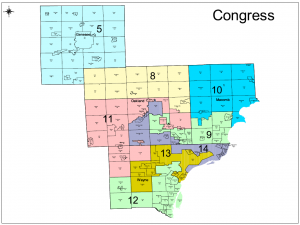 And so I would like to take this opportunity to present them as separate designs, each beautiful in its own right.  Ladies and gentlemen, the 9th, 11th, 13th and 14th Congressional districts of the state of Michigan: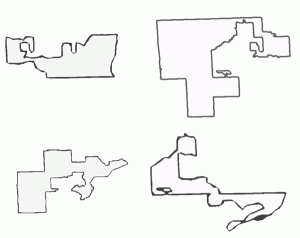 Draw your own and win!
These shapes are not only remarkable for their raw beauty and complexity but also for the way in which they are open to interpretation.  Indeed perhaps the most exciting part of this American artistic tradition is the degree to which it  invites viewer participation.  And just as commentators compared one of Massachusetts Governor Elbridge Gerry's 1812 districts as a "salamander" and drew a famous cartoon to illustrate, so all Americans are entitled to offer words and pictures to describe their new districts, so I ask all Pozorblog readers to do the same.   Take District 14 for example.  Look at it from all sides: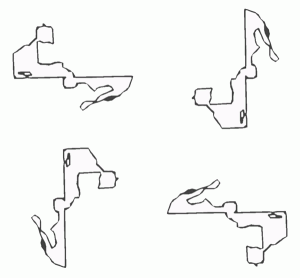 Is it a frog?  a giraffe riding a motorcycle? Elvis?  You decide and then send it here so that it can be posted for the world to see.  And if you do it soon, there's something in it for you (in a sense):
Gerryvision 2011
The process is simple:
Download one or all of the maps below in pdf or jpg format
Look at it long and hard, rotate it, squint at it or do anything else that will help you to divine its true shape.
Mark up the graphic to show what you have in mind.  Feel free to print it out and draw on it
Take a picture or scan it in and send it here: pozorblog@gmail.com by midnight on Friday, October 21.  Submit as many as you want!
Entries will be judged by an expert jury of experts in electoral rules (i.e. the students of my PS4710 course on "Democracy") who.  The winner will receive $10 donated in her/his name to the charity of her/his choice.
Here are the maps.  Go ahead and join the American artistic-political tradition!
As they used to say (and maybe still do), you can't win if you don't enter.