I've wanted to post this for some time but did not dare to do so until I knew it would work out. Now it has and I can reveal the identity of the guest in yesterday's Democracy class: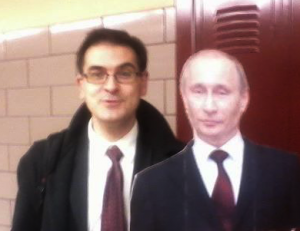 But before you say, "what a bad Photoshop job!" you should know that I would never stoop that low to put myself into a picture with a famous person.  I might, however, resort to this: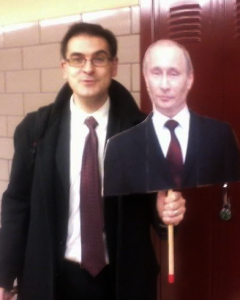 More complicated?  Sure, but much more practical for Trick-or-Treat (and for classroom dialogs about Russia).
But, you might ask, "Where can I get a cardboard cutout of Putin to use in my own quest to scare adults and/or engage students in discussion?"  Well you could try one of the many vastly overpriced cardboard cutout vendors online, or you could find a high-rez picture of Putin, photoshop out the background, print it across multiple sheets, arrange them on a piece of cardboard, secure them with spray adhesive and add a stick. 
Since that's too complicated for all but the most obsessive (of which I am obviously one), I offer below a completed version of the first 3 steps: your-own-life-sized-putin-cutout.pdf.*  Print out pages 2,5,6,7,8 for the short form, or add 9-20 for the long (if not quite full length) version.  Just print out, add cardboard, and stick, and voilà.  
*Wetsuit, equestrian and tiger-tranquilizing gun outfits sold separately.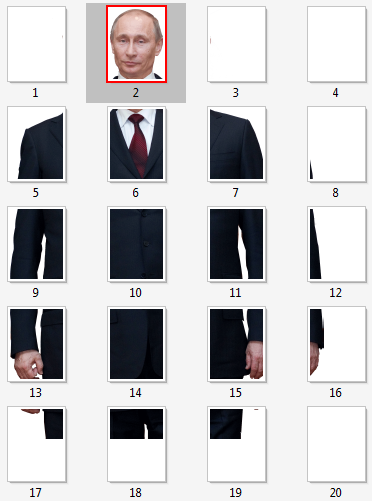 I realize that this introduces a significant gender bias to the costumes, so I promise that by next Halloween I'll finish the long-awaited Yulia-Tymoshenko-in-a-leather-space-suit cutout, though at the moment of my writing, the space available to her is rather smaller.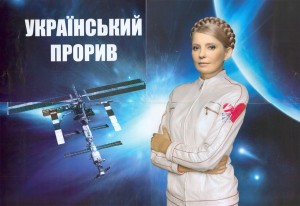 ---
Credits:  While I am the proud owner of the Tymoshenko poster, I am thankful to Dominic Nonni for snapping the picture at the top and to the Slovenian Press Agency for putting its pictures in the public domain under a Creative Commons license (http://commons.wikimedia.org/wiki/File:Vladimir_Putin_in_Slovenia_in_2011_(11).jpg), though perhaps they just want everybody to see how Prime Minister Pahor towers over Prime Minister Putin.