Just a reminder about Monday's discussion, free and open to all who wish to attend. Graphic is here, text is below. Next week I will try to post notes and perhaps audio or video I can arrange it. Thanks to Fulbright Slovakia, the Friedrich Ebert Stiftung, the Institute for Public Affairs, the Department of Political Science of Comenius University, and the German Marshall Fund for their support in organizing and publicizing the event: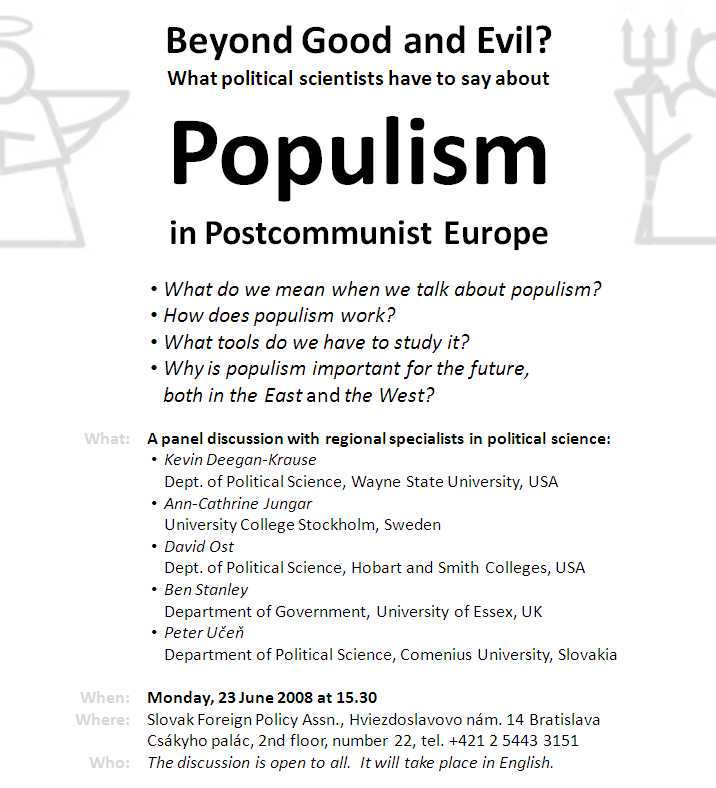 Beyond Good and Evil? What political scientists have to say about
Populism in Postcommunist Europe
• What do we mean when we talk about populism?
• How does populism work?
• What tools do we have to study it?
• Why is populism important for the future,
both in the East and the West?
What: A panel discussion with regional specialists in political science:
Kevin Deegan-Krause

, Dept. of Political Science, Wayne State University, USA

Ann-Cathrine

Jungar,

University College, Stockholm, Sweden

David Ost,

Department of Political Science, Hobart and Smith Colleges, USA

Ben

Stanley

, Department of Government, University of Essex, UK

Peter Učeň

, Department of Political Science, Comenius University, Slovakia
When: Monday, 23 June 2008 at 15.30
Where: Slovak Foreign Policy Assn., Hviezdoslavovo nám. 14 Bratislava
Csákyho palác, 2nd floor, number 22, tel. +421 2 5443 3151
Who: The discussion is open to all. It will take place in English.