A map of non-existent European countries (and how to create your own)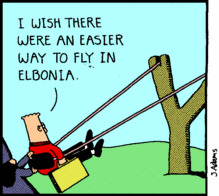 Earlier this year I decided leave Elbonia.  Elbonia served me well during over a decade of exams about hypothetical Eastern European countries that allowed me to test whether my students could apply their abstract knowledge to new and unfamiliar cases.  But after a decade of references to the Dilbert cartoons in which I first encountered it, Elbonia began to feel as stale as Dilbert itself.  And since I did not want simply to switch to another cliche like "Vulgaria" or "Ruritania," I did a search for a list of "fictional European countries" and immediately found a wikipedia page that I didn't expect to exist:  List of Fictional Countries and an even more specific List of Fictional European Countries.
And with this raw material, I could not help but take this one step further and to look for some underlying patterns that might even allow me to create new ones.   It wasn't much of a problem to look for common beginnings by alphabetizing the list.  It was slightly more complicated to find common endings by alphabetizing from the last letter forward, but some playing with Excel took care of that.  These lists were not as useful as I had hoped, however, because many countries many ended in A, many of those in -I-A and many of those in -V-I-A.  How to find the patterns?  The answer I came up with was to display these graphically, with letter sequences according to first and last letter and letter size according to frequency, sort of a wordcloud but accounting for the proximity of related characters. (There's probably some name and algorithm for this.  I usually end up reinventing the wheel).
Since the letter sequence took up less space when positioned next to one another than in a long list—and since the resulting arrangement had a topographical look, it was almost natural to actually turn the list into something maplike.  And that is what I eventually did and what I present below: a map-like array of imaginary European country names according to beginnings and endings.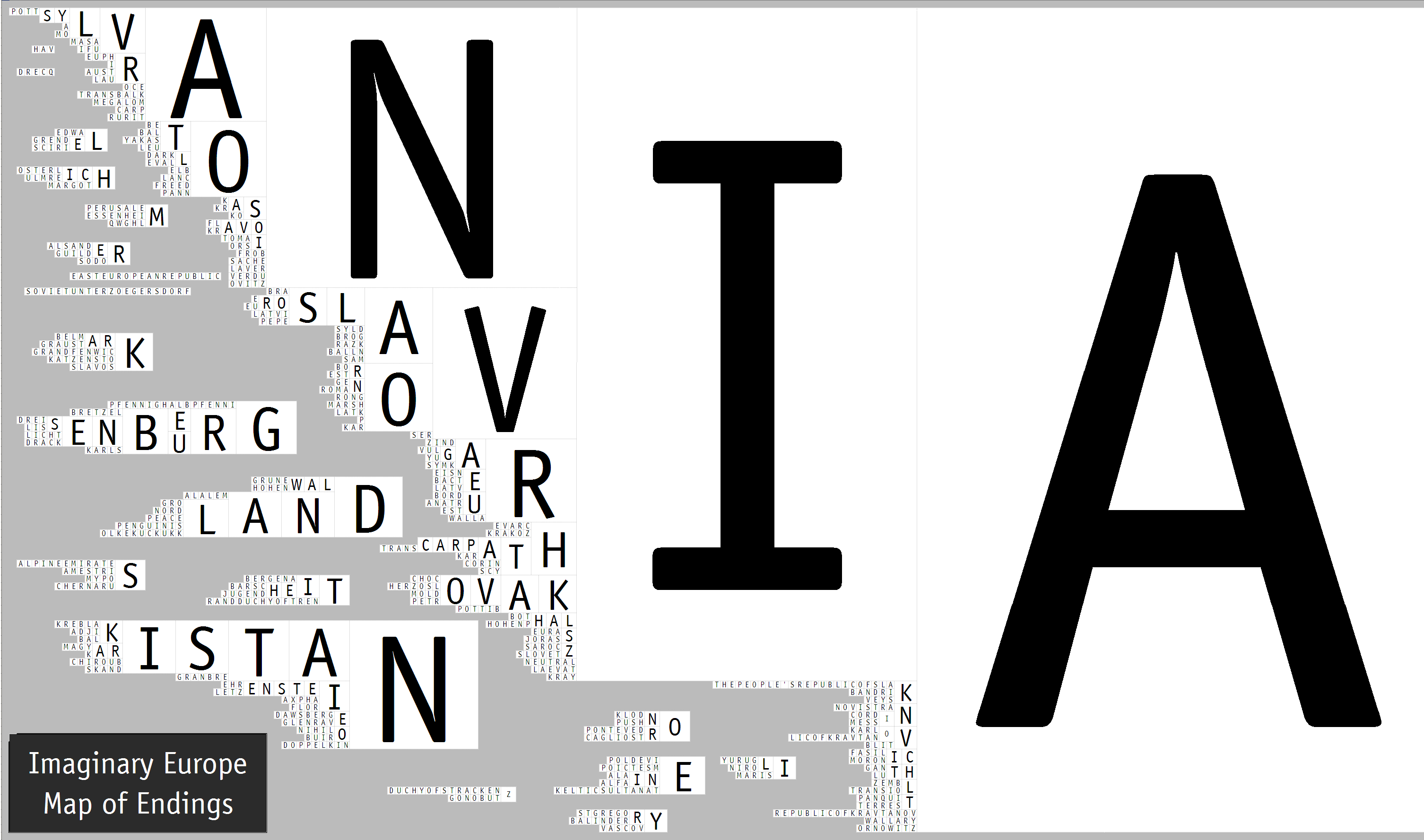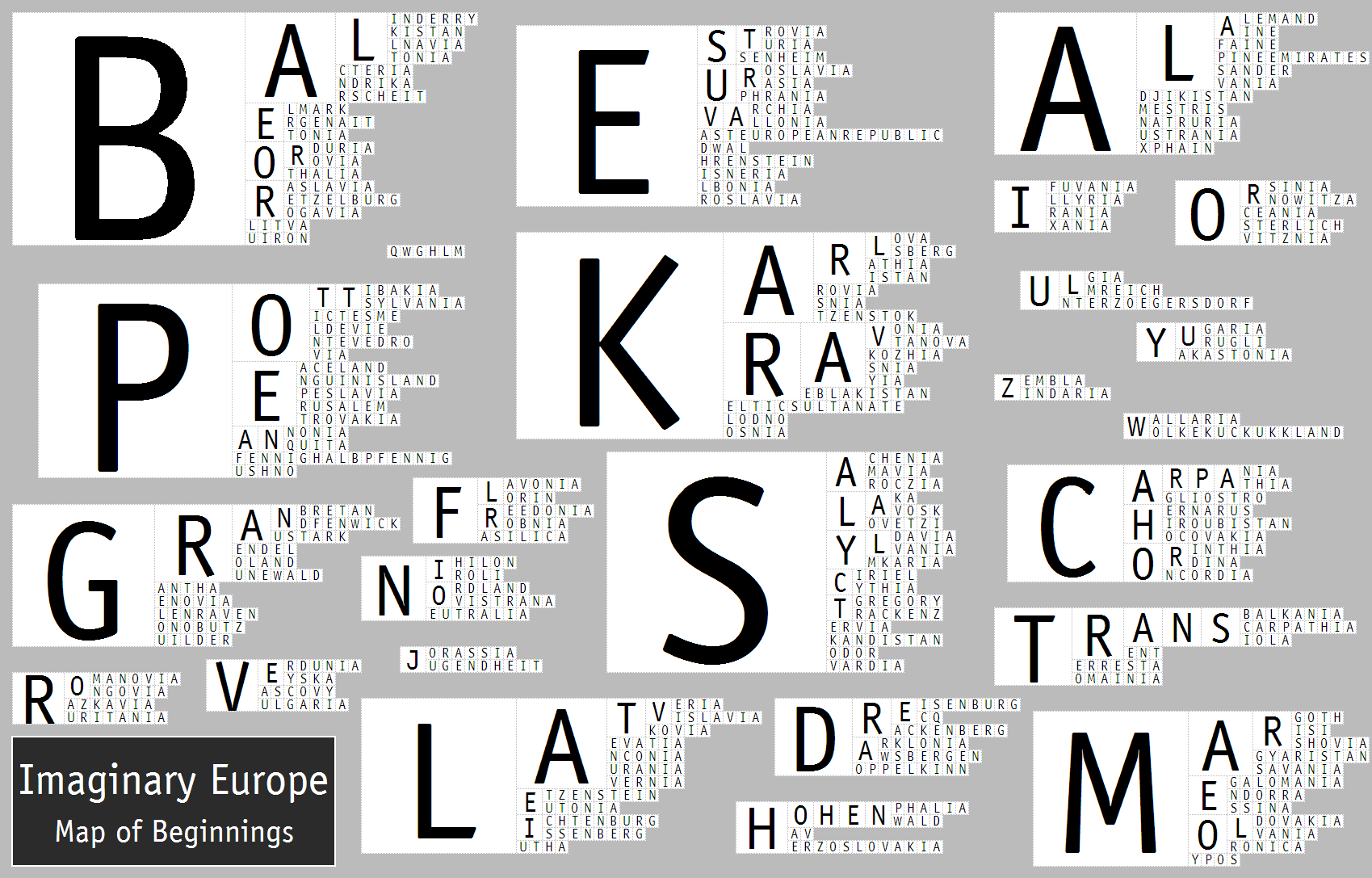 And the same array that produced this map can be also used for my initial goal: the creation of new names.  For no reason other than that it seemed right, I weighed each ending by the multiple of its frequency and its length.  This means that very simple beginnings and endings, like "A" have a high frequency score discounted by short length, while much longer (and more interesting) names, like "I-S-T-A-N" are discounted by their relative rarity.  The result is the list below or in a pdf worksheet here: Imaginary Europe Matrix
Pts.
#
Prefix
<————>
Suffix
#
Pts.
15
5
KAR
IA
92
184
15
5
KRA
NIA
38
114
15
3
TRANS
VIA
20
60
12
4
BAL
ONIA
12
48
12
6
PO
AVIA
10
40
10
5
PE
OVIA
9
36
10
5
MA
ISTAN
7
35
10
2
HOHEN
RIA
11
33
10
2
CARPA
VANIA
6
30
9
3
LAT
SLAVIA
5
30
9
3
MAR
LVANIA
4
24
8
2
POTT
OVAKIA
4
24
8
2
GRAN
ARIA
5
20
8
2
KARL
LAND
5
20
8
2
KRAV
RANIA
4
20
6
3
BE
TONIA
4
20
6
2
BOR
HIA
6
18
6
3
BR
CARPATHIA
2
18
6
3
ME
KISTAN
3
18
6
2
MOL
SYLVANIA
2
16
6
3
SA
ROSLAVIA
2
16
6
2
SLA
ROVIA
3
15
6
2
SYL
KIA
5
15
6
2
DRE
ARISTAN
2
14
6
3
CH
ERIA
3
12
6
2
COR
URIA
3
12
6
2
ALA
BERG
3
12
6
2
EST
NOVIA
2
10
6
2
EUR
GARIA
2
10
6
2
EVA
HALIA
2
10
6
2
RO
HEIT
2
8
6
2
VE
WALD
2
8
6
2
NI
INIA
2
8
4
2
RO
IN
4
8
4
2
VE
KA
3
6
4
2
NI
SIA
2
6
4
2
NO
ZIA
2
6
4
2
LE
INA
2
6
4
2
LI
OVA
2
6
4
2
SC
ICA
2
6
4
2
ST
THA
2
6
4
2
FL
INE
2
6
4
2
FR
ICH
2
6
4
2
DA
ARK
2
6
4
2
YU
LI
2
4
4
2
UL
NO
2
4
4
2
OR
RO
2
4
From this list it's possible to connect the beginnings and endings to create new names.  Below are just 60 of the 2500 names you can create this way, some quite plausible, others just fun to roll of the tongue.  My favorites so far?  I like Beria, but it's already been taken by a historical figure.  Balonia is pretty tempting.  Drekia and Drearia are a pretty good pair (that probably would get mixed up like Slovenia and Slovakia).  Euroslavia and Euristan form nice juxtapositions.  Cornia and Krania are nicely corporeal.  Krakistan and Peroslavia are also somehow evocative.  Right up there is Evakistan (which includes in its name the suggestion of hurried departure), but the best, I think, is Betonia, which captures the experience of concrete tower-block suburbs better than anything else I have seen.  So next year I'll set my students to write the history of Betonia.  Perhaps they'll have to deal with an Elbonian invasion.
ALATONIA
BALERIA
BALONIA
BALTONIA
BERIA
BEROVIA
BETONIA
BORROSLAVIA
BRAKISTAN
BRAVIA
CARPACARPATHIA
CARPAGARIA
CARPARIA
CHARIA
CORKISTAN
CORNIA
DREARIA
DREKIA
DRETONIA
DREVIA
ESTRIA
ESTROSLAVIA
EURANIA
EURISTAN
EUROSLAVIA
EURURIA
EVAKISTAN
GRANGARIA
GRANISTAN
HOHENHEIT
KARENIA
KARGARIA
KARISTAN
KARKISTAN
KARLOVAKIA
KARLTONIA
KRAKISTAN
KRANIA
KRATONIA
LATHIA
MANOVIA
MARANIA
MARONIA
MARROSLAVIA
MENIA
METONIA
MOLTONIA
PEKISTAN
PEROSLAVIA
PONIA
POTTLAND
POTTURIA
SATONIA
SLANOVIA
SLARANIA
SLATONIA
SLAVANIA
SYLIA
SYLKISTAN
SYLSYLVANIA
TRANSISTAN
TRANSOVAKIA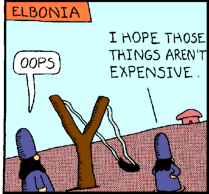 You can follow any responses to this entry through the RSS 2.0 feed. You can leave a response, or trackback from your own site.